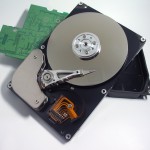 In the modern age of IT we are all guilty of being a little naïve when it comes to backing up our data, but what would you do if your hard drive failed? Or your operating system no longer boots? Or maybe you or someone in your household has accidently deleted your data? You might think that's it!  You have lost all those years of critical documents, music, videos and photos!  Well don't despair, here at DASComputing we offer a comprehensive data recovery service where we can collect your faulty equipment and attempt a full recovery using the latest and greatest recovery tools available.  In a lot of cases we can recover your files with no need to actually dismantle the physical disk, in this case we can recover the data to either an external USB device or another Internal Hard Disk depending on your preference.  If for any reason the internal components have failed on the Hard Disk and a soft recovery is not possible, we can then have the disk hardware recovered, however this option is expensive and you would need to weigh up the cost vs the criticality of the data.
Common causes of Data Loss include:-
Accidental Deletion
Malicious code and or Software Infections
Faulty Storage Hardware
Overwritten Files
Age of Equipment
For more information or to talk to us if you are worried you might have lost data then please contact us today and we will be happy to assist.  Remember there is no call out charge within a 12 mile radius of Yeovil (BA21).